Custom Signs for Businesses
Great Signage Speak Volumes
Don't miss out on creating powerful, eye-catching signages for your business. As a sign maker company, we provide high quality at unbeatable prices. How can we help you?
We respond within 24 hours. For urgent inquiries or those after business hours, please call us.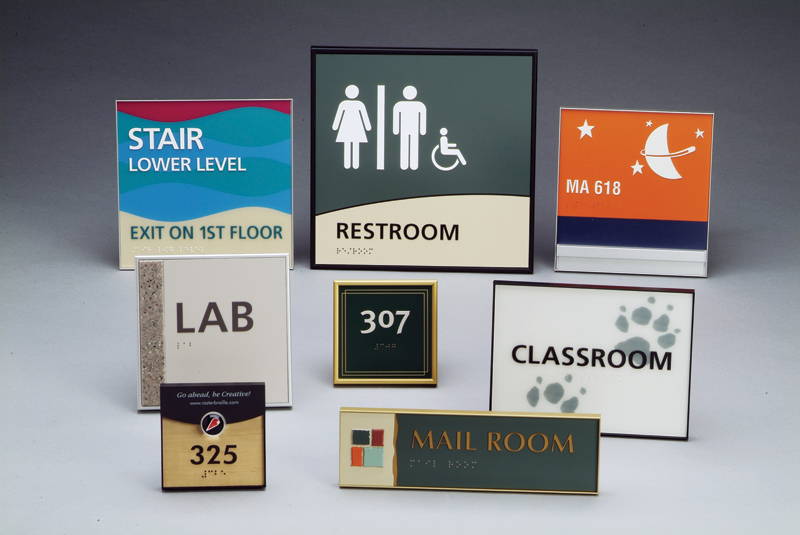 Custom signs are important tools for companies. There are also many types of signs for many occasions. Not only do they provide a way to market your company, but they can also be used as an effective tool for communicating with prospective clients, customers, patients, and employees. They also look great for social media photos!
Industries we serve:
Office: signs for doors, directories, hallways, conference rooms, departments, cubicles, hours of operation, receptionists, and other office needs

Real estate: signs for realtor, house for sale, and other custom needs

Election: signs for campaigns, politics, and other lawn & yard needs

Restaurants: signs and boards, prices, specials, and other display needs

Hospital & healthcare: signs for medical, wayfinding/directional, office, clinic, and other patient needs

Construction: safety & caution, job & building site, project, and other work area needs

Trade shows & conferences: signage & banners for vendors, booths, exhibitions, tables, and other convention needs

And more! From traditional banners displayed outdoors to modern digital signage in lobbies, custom signage is an invaluable asset for any company. For industries that rely on visibility to succeed; custom signs are essential tools for success.
Committed to maintaining the integrity of your design, our custom signs services focuses on precision and alignment with your brand's objectives. From initial design consultation to final production, we engage with you at every step to ensure your vision is accurately translated into the finished product.
Quality is non-negotiable. Our in-depth review process allows for adjustments and approvals, ensuring the final sign is exactly as you envisioned. Count on us to deliver custom signs that truly represent your business, crafted from high-grade materials for long-lasting impact.
Offering a wide range of design options, our custom signs services are tailored to align with your business objectives. We prioritize precision from the design stage through to final production.
With an emphasis on quality and timeliness, our capabilities extend to large-scale production and expedited delivery. We utilize high-grade materials to ensure each sign reflects the professional image your business deserves.
Ottawa Signs maker company
NO-CHARGE Setup & engraving Included
All our products include
FREE
setup and engraving as part of our work for you. For select products, you can also print text, logo, and get them personalized, too!
Contact us

to learn how we can customize and personalize your Signs, Gifts & Awards (SGA's) the best way possible.
Indoor & Outdoor Business Signs
Enhance the visibility of your business today with custom indoor and outdoor signage solutions crafted to meet your unique needs. Stop letting potential customers pass you by – make the right impression and seize every opportunity to increase brand recognition with high-quality signs tailored for your business. Take action now and contact us – we look forward to helping you succeed!

What we offer:
Real estate & election signs
And more! From traditional banners displayed outdoors to modern digital signage in lobbies, custom signage is an invaluable asset for any company. For industries that rely on visibility to succeed, custom signs are essential tools for success.
How Custom Signage Helps You
Custom signage gives businesses the opportunity to express their unique brand identity, making it easier for customers to recognize and identify with the company. Whether you're looking for a simple indoor signage or a full-fledged outdoor sign seen from across the street, custom signs allow businesses to showcase their message in an eye-catching way that stands out from the competition.
The right custom business sign can also act as a beacon and draw in potential customers who may not have otherwise known about your business.
Signs are often the first thing customers see when entering a business or event space. They provide direction, advertise services and products, create brand awareness, and help establish a company's identity. They also provide a level of professionalism that will make your business stand out from competitors.
Act now to get your customized signages today and maximize the impact of your company's presence!
Striving for top-notch customer care!
We are available during and after business hours. Got an urgent order? Call us now.
We serve locally across Ottawa and beyond! Free shipping for orders over $50.
Our remarkable supply chain relationships allow us to work within your budget, big or small.
The Best Ottawa Graphic Design Services
Investing in SGA Signs' specialized graphic design services is an investment in the future of your brand. If you're an Ottawa business looking to elevate your visual identity and make a lasting impact, reach out to SGA Signs. Your brand doesn't just deserve to exist; it deserves to thrive. Contact us today for a free consultation.
Explore Our 2023 Catalogs
Explore the gifts and more in our catalogs!
Hours of Operations:
Monday - Friday: 10:00 a.m. to 2:00 p.m.
Saturday & Sunday: Closed
You are in advanced mode.
You can turn it off in left sidebar. To use advanced options, you will need to enter your own Google Maps API Key.
Get Google API Key
We pride ourselves in client care. Reach us after business hours, including weekends.